Makeup Tricks & Beauty Hacks
Our professionals are leaking their top secret makeup skills and beauty skills, which go beyond "have been there, tried". Whether you are a beginner or an experienced makeup artist, there is something for everyone.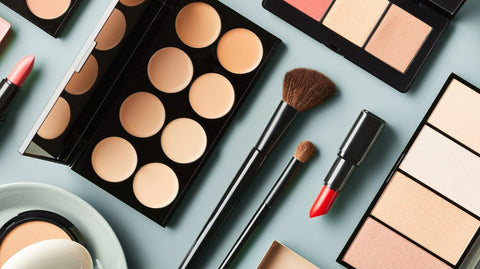 (source:healthline.com)
Lipstick tip
Get a long-lasting matte liquid lipstick without a dry feeling. We like liquid matte lipsticks, but it is undeniable that most make the lips look and feel chapped. To prevent this from happening, first use a traditional cream lipstick, and then apply a layer of liquid matte lipstick. Creamy lipstick acts as a barrier to protect the lips from drying out, while the matte liquid acts as a seal and locks in the color of the lips. The use time will be shorter than using liquid matte lipstick, but much longer than using traditional lipstick. For more tips on how to make lipstick lasting, please check this article.

Surprisingly, the secret to controlling red lips lies in your skin. The trick is to use a neutral-toned foundation or concealer to remove any red blemishes on the skin tone. This can make the red lipstick exude a charming radiance on any skin tone...really.
Eye makeup tips
To find the perfect cat's eye, you need the right tools and skills. First, you need to draw the liquid eyeliner with a thin and precise brush. After that, the key is to start to draw a thicker diagonal line on the outer corner of the eyeliner, which gradually becomes thinner as you move inward, but there is a problem here. End the line at 2/3 before reaching the inner corner. The line should be a very thin cone at this point, so you can't see a dividing line.

Why is this helpful? The inner corners are error prone and cause you to draw a thick line from beginning to end. Thick lines will make you look heavier and your eyes will look smaller, not bigger. Focus on the 2/3 outside and you will get a raised cat eye that looks clean.

To make it easier to blend, apply soft brown/taupe/peach (or any skin tone) eyeshadow on the creases, and then apply other eyeshadows. Regardless of whether you use an eyeshadow primer or not, this allows dark eyeshadows to blend better when spreading the color with a fluffy brush.
Blush Hacks 
Use your favorite lip color on your cheeks instead of buying blush. Dip it on the apple-shaped part of the cheek, and then mix it with your fingers or cotton pad. Ha! You have saved yourself a sum of money, or, at least, there is a new way to touch up your blush at any time.

Found a blush you like, but the color is too strong? Reduce the color by mixing the same texture highlighter. This will soften the pigmentation and give your complexion a healthy glow.
Leave a comment