Smokey Eyes With Pink – How To
Pink is feminine and sweet. It reminds a lot of Barbie dolls and candy. Well, when paired with a plain smoky eye, pink looks sexy, eye-catching and luxurious. For those who want to try something new - Smoky Eye with pink.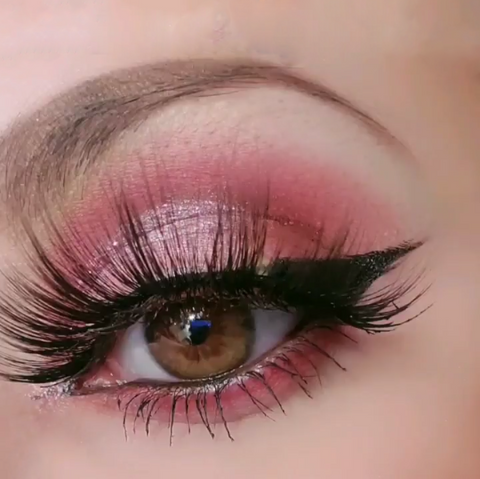 Smokey Eye With Pink Glitter
Well, if you suddenly developed a desire to become cotton-candy: this look is for you! To achieve it you will need:
Matte light pink shadow
Matte cool-toned dark pink shadow
Pink glitter or glitter eyeliner
Liquid eyeliner (can be gel, pen eyeliner also)
Mascara
False eyelashes
Look line from under the eyelids and start. Pair with foundation or a light, nude eye shadow. Take a fluffy eyeshadow brush and apply a matte cool shade of dark pink to your wrinkles, extending outwards and upwards. Draw more shadows like this in your outer corners to give more intensity.
Glitter time!Choose a pink glitter or glitter eyeliner and apply two-thirds of the eyelid (starting from the inside of the eyelid). Then apply liquid eyeliner to your eyeliner and make up your cat's eye.
To complete the eye finish, apply a matte pink eye shadow over the brow bone with a fluffy blend and a small amount on the inside of the brow bone. Put some mascara on your lashes and you can start making false lashes! Easy and effortless!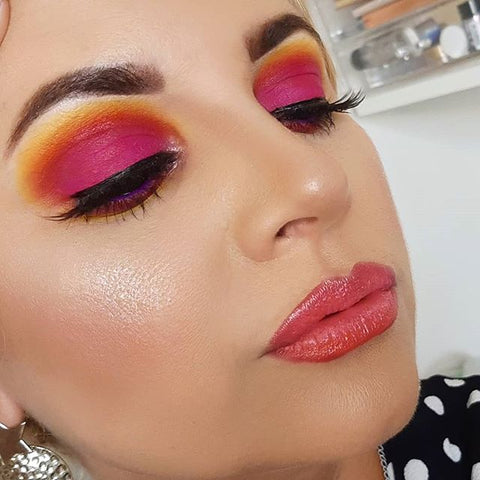 Smokey Eyes With Pink And Gold
Prepare to catch everyone's attention with this look. Smokey, intense, bold – this is the way to describe it! What you will need:
Matte white/cream shadow
Bright matte pink shadow
Matte dark violet shadow
Gold color shadow
Black liquid eyeliner
Mascara
False eyelashes
Start by applying the makeup on the eyelids and under the eyeliner. Wear it with some powder or nude eye shadow. With a large eye shadow brush, apply white or cream eye shadow over the entire eyelid and brow bone area. This will not only act as a highlight, but will also help blend shadows.
Choose a bright matte pink eye shadow and apply it to the wrinkles with a fluffy brush, blending in from the inside out. Take a matte dark purple eye shadow and apply it to the outer and inner corners of your eyes with a wrapping brush. Using the blending brush previously used, mix the color with the crease shadow, also, connect it in the middle a little.
Take a gold eye shadow, wrap it wet, and brush it between your eyes. This will create the famous "halo eye" look.
Use thick liquid eyeliner, mascara and some false eyelashes for the upper lid. For the bottom lashes, use a small eye shadow brush and apply a deep purple shadow along the base of your eyes, then blend in with some bright pink eye shadow. Don't forget to apply mascara on your lower lashes!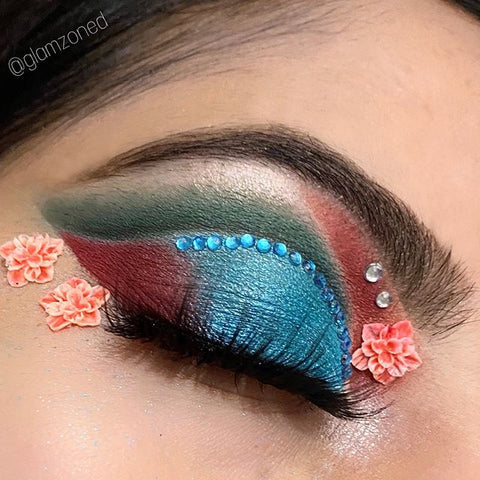 Smokey Cat-eye With Pink Glitter
This look is sultry and sexy. It gives us that 'Arabic' makeup vibe. To achieve it you will need:
Satin finish champagne color shadow
Pink glitter or glitter liner
Black liquid eyeliner (can be gel or pen eyeliner)
Matte black (dark grey) shadow
Gel pencil eyeliner
Concealer
Mascara
False eyelashes
Use a little kohl to neutralize the area under the eyelids and eyeliner, then add a little kohl or nude eye shadow. Use a wrap brush and matte black eye shadow. Apply to the outer third of the eye and begin to draw the cat's eye shape. Blend with a fluffy eyeshadow brush.
With a pink glitter (or glitter eyeliner) in the center of the eye, draw inward. Apply with a wrapping brush or finger.
Apply some satin champagne on the underside and inside corners. Use black eyeliner. Use it to create a cat eye and extend the line in the inner corner. This will elongate the eyes. Use black eyeliner on the waterline and tight line. Smoke out some matte black shadows on the bottom liner and connect it with black shadows on the top lid.
Apply some concealer with a concealer brush. Drag the black eye shadow line up until you reach the end of your eyebrows. This should leave you with a sharp, sharp black eye shadow.
To make your eyes look perfect, apply some mascara to your upper and lower lashes and apply false lashes. Your eyes are gone!
Pink Sunset Smokey Eye
This look is for those bright summer days. Accentuate the color of your eyes with a pink sunset. You will need:
Matte orange shadow
Matte bright pink or red shadow
Sparkly pink shadow
Sparkly warm-toned bronze shadow
Matte white shadow
Brown gel eyeliner
Brown pencil eyeliner
Mascara
False eyelashes
Use some eyeliner cream to cover your eyelids and under the bottom lash line. Wear eye shadow or nude eye shadow on everything. With a large eye shadow brush, apply a matte white eye shadow across the entire eyelid, under the eyebrow bone and around the inner corners. This will help the shadows blend better.
Apply a matte orange eye shadow with a fluffy eyeshadow brush, apply it to wrinkles, and mix it up. Take some matte powder and wrap it in the outer corner with a packing brush. Try lengthening the end of the shadow to lift the eye, and mix it with the orange shadow using the fluffy brush you used before.
Apply a bright pink eye shadow in the center of your eyes. Inner third of the eyes - gleaming bronze shadow. Both shades can be used in wet conditions to make the color stronger.
Line your eyeliner with brown eyeliner. Keep your eyeliner thin. Start at the outer corner of your eye and apply bright pink to two-thirds of the lower lash line and orange to one-third of the inner corner. Mix the two colors together.
To finish the eye, take a brown eyeliner and apply to the waterline and taut line. Get everything done with some mascara and false eyelashes.
Conclusion
 hope this article has been helpful to you now that you have more ideas for pink smoky eye makeup! Experiment with colors, embrace your inner makeup artist, and don't be afraid to experiment.
Good luck!
Leave a comment