Christmas Makeup Ideas to Copy This Season
Your makeup is just as important as your outfit, gifts, and the Christmas dinner, so do it right the first time. We've got a lot of Christmas makeup inspiration for you to replicate this season.
Pull up a chair, get your makeup bag ready, and sit in front of the mirror. It's time to start playing with your makeup box!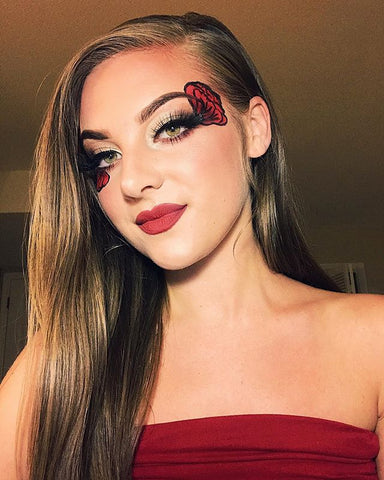 1. GOLD GLITTER EYES + RED LIPS
When it comes to Christmas, you won't find a more iconic look than red lips and gold twinkling eyes –both are the colors most associated with the holidays. To create such a bright eye makeup, you'll need to apply a primer first – it's important to make sure your eye makeup doesn't move. Sequins have a ubiquitous habit, so be sure to smear or grab a paper towel under your eyes so you can wipe away any spills. You can also consider sprinkling translucent powder and then brushing it off, as well as excess glitter, when you're all done.
2.
DRAMATIC SMOKEY EYE
Smoky eye makeup is a holiday favorite because it can be worn with almost any party outfit you can think of. However, one thing we don't like is removing makeup the next morning, because you know we won't remember to do it before going to bed at night! If you're having a hard time removing makeup, here's a great tip, and it's super good for your face! Not only is coconut oil great for removing makeup when used with a cotton ball or cotton pad, but it also nourishes and hydrates your face at the same time!
3.
DARK GREEN EYES
Wearing green is a bold choice, but as long as you know how to do it properly, you can do it. You need to know the right shade of green for your skin tone and hair color, and you need to know how to use it appropriately for maximum effect.
You should start with your eyes, and if you want bold eye shadows like dark green, leave the foundation and everything else until you're done. Eyebrows and eyes are the most eye-catching part of this look, so apply them first, and then shift the rest of your look to match the green, rather than clash with them.
4.
FESTIVE GREEN AND GOLD LOOK
What about green eyeliner if you don't have the guts or the guts to do a pure green eyelid? We love the way it mixes golden pop, combining the two holiday colors. If you're looking for creative Christmas makeup ideas this season, you can do a lot worse than that.
If you don't have a green eyeliner in your hand, here's a good tip. Let's face it, who does? You can use a regular eyeliner and a small lid filled with water, your regular green eyeliner. Dip your brush into the water, brush off any excess water, and then dip it in the green eye shadow, just as you would with regular eyeliner. You may find that you need several layers to get green eyeliner through, but you can achieve exactly the same effect as liquid eyeliner.
5. DARK GOLD EYES + DARK LIPS
It's hard to put on big eyes and big lips at the same time, but this combination of gold and deep red shows you how to do it right. Her eyes, though sparkling, were very soft, and only her large red lips did her work. A little white or light-colored glitter in the inner corners of your eyes really helps open them up, and it goes well with the gold LIDS!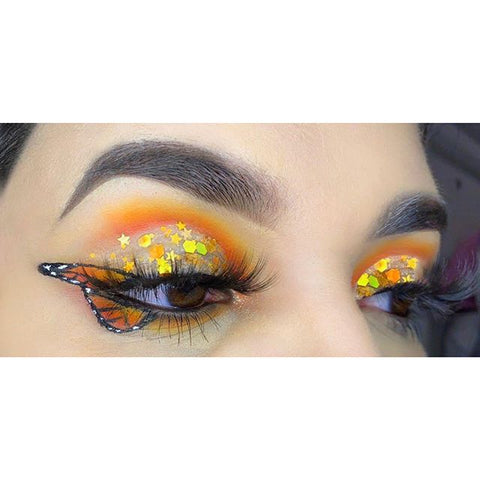 6.
BROWN SMOKEY EYE + GLITTER EYELINER
If you don't want the traditional black smoky eye, how about brown eye shadow? The right shades blend together to look eye-catching, but are easier to wear than the harsh blacks and dark grays you'll usually find. If you don't have the right tools, you can use the brown in the highlight and outline palette. We have successfully created a complete brown smoky eye with a contour palette and a large fluffy blend brush.
7.
GOLD EYES + NUDE LIPS
To get the right nude lips, you should first make sure your lips are in good condition. Start with a lip exfoliator. You can even start by brushing away dead skin cells with a homemade sugar scrub and a soft-bristled toothbrush. Then apply your lipstick, giving it plenty of time to absorb during the rest of the makeup process, and finally, use a lip liner to draw the line a little first -- this is what makes them look fuller.
Once you've applied your nude lip gloss, then apply your lip gloss to the top and dab a little highlighter powder in the center of your lower lip to make it reflect light and look bigger.
8. BLACK GLITTERY SMOKEY EYE
To make a real difference in this party season, don't settle for just a plain old smoky eye - add a little sparkle! It also prevents you from looking too goth if your smoky eyes are a lot smokier than you initially thought. If you want to replicate this season's look with simple Christmas makeup, add a little sparkle. No matter what color or shade you paint the smoky eyes -- brown, black, charcoal, even green and blue -- with a little sparkle, they instantly look more festive!
Leave a comment